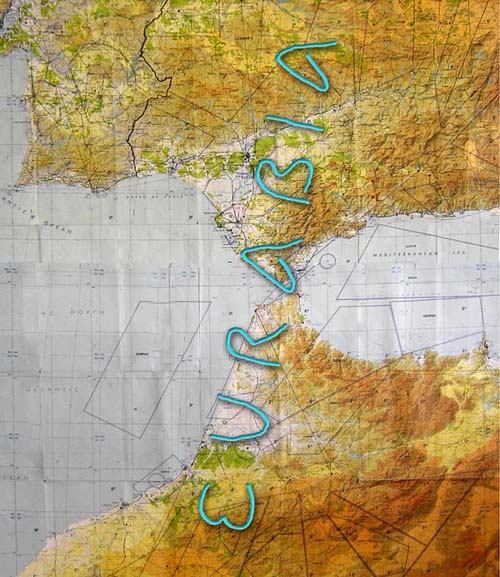 Écrire dans le vent
Ce que les peintres aiment par dessus tout c'est la glisse de leur brosse sur la toile (c'est sûr). Laissons les théoriciens penser que ce qui importe aux artistes c'est le sens.
Ce qui a exité les artistes qui ont avant tout le monde utilisé le fameux portapack, c'est de presser sur la gachette. Visant la foule à NY pendant la visite du pape c'était comme tirer sur des ballons dans une fête foraine.
Et qui raportera la jouissance des calligraphes liant le geste à la ligne?
Cette installation tient de l'écriture et il ne sagit (bien sûr) pas de ce que vous êtes en train de lire.
Dans "Ecrire PARIS dans les rue de cette ville" (1973) Roland Baladi conduit son XLR 500 à travers les rues de Paris, formant les cinq lettres : P A R I S en filmant en camera subjective. La vitesse de la moto contraste avec la lenteur de la progression des lettres en superposition sur l'écran. Ca n'a pas plus de sens que "Paris" le nom de la capitale, et le seul sens contenu c'est le sens opposé des aiguilles d'une montre lors du point sur le I de Paris virant autour de la place de la Bastille.
Plus tard il éprouva le besoin d'écrire à plus grande échelle avec un Jodel 112 le monomoteur en bois et toile. Le prétexte était de tracer "Centre" à l'exact centre géographique de la France. Le plaisir venait des virages sérés sur la N114. Il ne lui a pas semblé utile de superposer le tracé sur la progression de l'avion, le titre: "Tracer centre au centre de la france 2002" était explicite.
L'été dernier, avec Doc Tom, il filma d'un F150 Cessna, les lettres du mot E U R O P A en survolant six diférents paysages. Entre le E en espagne et le R en Italie le survol de la côte méditéranéenne était marveilleux. Le seul sens cette fois était le sens des aiguilles d'une montre du O autour de Bayreuth.
Cette fois avec la BIACS le défi était intercontinental. Projetter le voyage au Maroc ne manquait pas de charme, vérifier les cartes aériennes les points de report, vérifier la camera tout cela était stimulant.
Et bien sûr il n'était pas question pour lui de donner un sens puisque le public est assez malin pour en trouver un.
Donald Bailar (Mai 2008)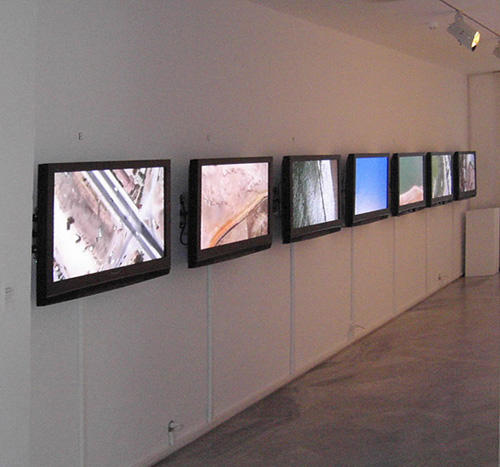 Writing on the wind.
This series of installations is about writing, and I do not mean writing what you're about to read.
In "Écrire PARIS avec les rues de cette ville" (1973) Roland Baladi drove his XLR 500 through the Paris streets, shaping the five letters P A R I S while shooting the subjective scene. The speed of the motorcycle contrasts with the slow progression on the screen of the written letters. It's not more wise than "P A R I S": the name of the capital, and the only point made is the one on the I, circling around place de la Bastille.
Later, he needed to try this out-of-scale writing again with a Jodel 112, the very popular French leisure plane of the fifty's, made of wood and canvas.
The pretext was to trace the word "Centre" over the exact geographical center of France. The thrill was curving the e and the sharp turn on the branch of the t over the N114. This time, there was no point in causing interference to the picture with the written letters, the title was enough: "Tracer Centre au centre de la France"(2001).

What painters enjoy most, it goes without saying, is the glide of their brush onto the canvas. Let the academics believe that what is most important to artists is the meaning, the point made or how wise the stroke is.
The thrill for artists first using videos, with the famous Portapack, was to press the trigger. Shooting the crowd in NY during the Pope's visit, was like shooting balloons on a fun fair booth.
Who will report the pleasure of calligraphers joining gestures and lines? Not them, obviously preoccupied by theological concerns.
Last summer, with Doc Tom , among other installations, he shot, from a F150 Cessna, the letters of the word E U R O P A over six different lands and landscapes. Between the E and the R the French Mediterranean coast from Spain and Italy was spectacular. The only wise stuff was for the O, circling around Bayreuth clockwise. Every letter was independent and the landscape flown over was projected on the floor.
This time for BIACS the challenge is intercontinental. Planning the trip to Morocco is fun. Checking the air traffic charts, the report points, the control and tower frequencies, making sure that the cams are working correctly is kind of a thrill, he does not need to make a point since the public is wise enough to figure it out.
Donald Bailar